PITTSBURGH — The words are getting harder and harder to summon to describe what we're seeing from Albert Pujols. But people are trying.
"I don't think there's a wrong one," Cardinals president of baseball operations John Mozeliak said. "Magic is magic."
"Absolutely legendary," manager Oliver Marmol said. "I'm not quite sure what we're witnessing right now."
But perhaps the best two words were, "Thank you."
Those two came from the lips of Samantha Brown, whose husband, Matt, came up with Pujols' 697th home run ball that had ricocheted off a couple of seats in right-center field. It was a game-winner to cap a four-run ninth inning that gave the Cardinals a 4-3 victory over the Pittsburgh Pirates on Sunday at PNC Park before a crowd of 10,398 that got to see a little bit of history.
After briefly sharing fourth place on the career home run list with Alex Rodriguez when he homered the night before, Pujols moved to three homers away from the 700 club, which has three members. Barry Bonds has 762 homers, Henry Aaron 755 and Babe Ruth 714.
The Browns came to PNC on the first anniversary of the death last summer of Samantha's father.
"I just feel that it was a sign that we got (the ball)," she said.
But when the Browns tried to give it to Pujols outside the Cardinals' clubhouse, Albert would have none of it, especially when he heard about the death of Samantha's father.
"Albert, you're really going to walk away from that?" asked Matt Brown.
"It's all good," Pujols said. "I have plenty of baseballs. She deserves it more than me."
"Thank you," Samantha said, failing to fight back tears and her voice cracking.
She was wearing a Cervelli Pirates jersey in honor of popular former Pittsburgh catcher Francisco Cervelli, and she and her husband got another signed ball from Pujols.
Later, Pujols said, "It's just a baseball. They deserve to have it. It went out of the ballpark. We play this game for the fans. So whether they want to give it back or they want to keep it, I don't have any problem with it.
"I think it means more to that girl than it means to me having it in my trophy case. She lost her dad, so I think that's a piece of memorabilia that she can have."
Cardinals Most Valuable Player candidate Paul Goldschmidt was sitting this one out as Marmol sought to give Goldschmidt and fellow MVP candidate Nolan Arenado a day off to precede a scheduled day off on Monday.
"In the moment, 'Goldy' was closest to me," Marmol said after Pujols had belted his 18th homer of the season and 14th in the past two months. This one came off right-hander Chase De Jong. "And he said, 'Hands down, the greatest hitter ever.'"
Goldschmidt didn't back down from that remark.
"I hate to use the word 'disbelief,' but he's incredible," Goldschmidt said. "He's probably done that five or six times this year, kind of a storybook ending to a game that you could only write, and he just keeps doing it.
"I know that you've seen it a lot when he was younger. To move into fourth all time. Game-winner, basically."
And then, Goldschmidt stepped up his game.
"When you look at his career, it could have be as good as any there's ever been," he said. "This year shows it. He's not really slowing down (at age 42). How many homers is that? Eighteen? It's not like he's just hanging on out there.
"Best hitter I've ever seen, that's for sure."
Referring to himself and Arenado, Goldschmidt said, "We're doing good. But my best year is probably an average year for him his first 11 years.
"Five hundred homers is incredible. Three hundred, 400 are also good. But to be up there (near 700) … I'll never see anything like this in person.
"Hey, remember this moment. This is really special. It's really cool to be a part of it, so I just try to take it in. This isn't just a game-winning homer. This is history in the game of baseball."
Four of Pujols' past five homers have been tied or won games. He now has five of his 17 homers against right-handed pitching, and his average against those pitchers has risen to .200 after it was well below that most of the season.
"He's just playing with a lot of confidence," Marmol said. "That's the patience. And he's killing it."
Tyler O'Neill, who also homered in the ninth, said, "We're seeing a little Fountain of Youth, I guess. But watching the way he prepares, the way he understands his swing and his game plan are really what make him great."
While Pujols has made himself better after his average had dipped to .198 in early July, Goldschmidt said, "He's made all of us better players, watching him work and the encouragement that he gives. It's not just him trying to get to a number.
"He's set an amazing example for us, as a Hall of Fame player."
Everyone — staff, players, front office, fans, media — is along for the ride.
"To be able to witness it, to be able to be a part of it, is amazingly meaningful," Mozeliak said. "When you talk about once in a lifetime, it probably is true.
"And it's such a unique story. You have what he accomplished here for 11 years. Then you have this gap. And then you have this reunion. The first half of the season, it was as expected. It was fun. But … now it's like meaningful contribution, which is incredible."
Arenado said, "I don't think there will ever be a player like that. There's nobody that has really done what he's doing, especially at this age. It's just a different level.
"We're getting a little glimpse of it — but to think he was doing this year-in and year-out before is insane.
"To see what 'Goldy' is doing this year is amazing. It's been so much fun to be a part of. But just to think that Albert did that all the time is crazy. It's hard to wrap my mind around all that stuff."
Tommy Edman and Corey Dickerson doubled to open the ninth inning and break up the shutout authored by Mitch Keller for seven innings and Duane Underwood Jr. for one. Pujols, who had been 0 for three, jumped on a 2-0 De Jong fastball to put the Cardinals ahead for the first time all day.
He has hit a whopping .374 in PNC Park for his career to go along with 34 homers here, most by a visiting player.
"Good question," he said. "I wish I could say."
But he said, "I take every game like it's the last game of my career."
He has 21games remaining in the regular season and likely several more in the postseason.
And there eventually will be that last game. What happens between now and then could be indescribable.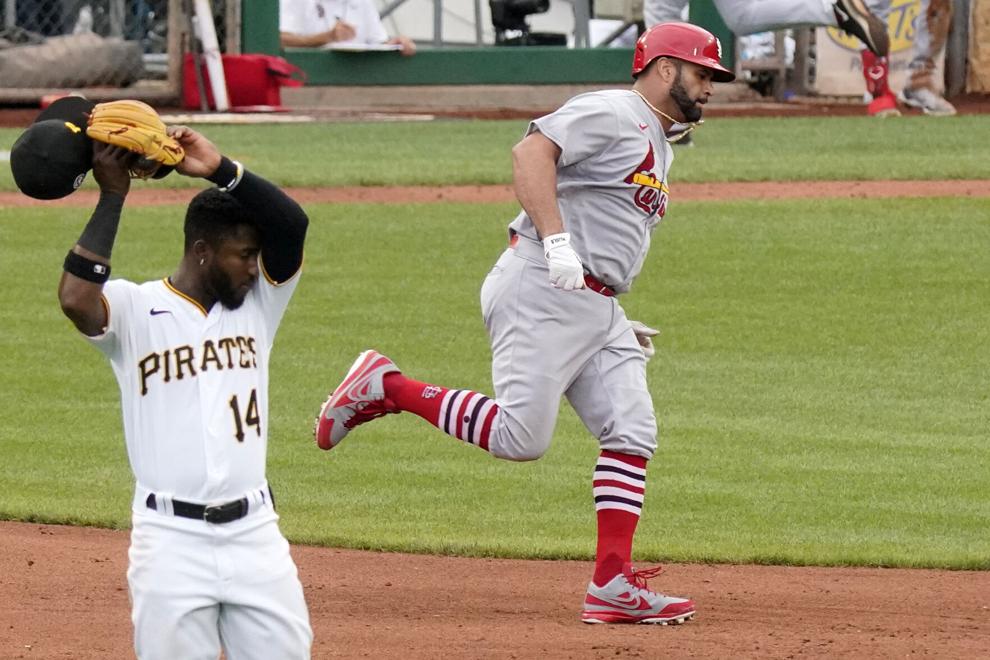 Photos: Pujols hits No. 697 as Cardinals rally to top Pirates in ninth